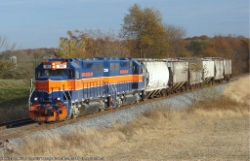 Welcome to the RRPictureArchives.NET contributor site of Don Hummel, Jr..


I spent some of my childhood in Delawarewithin viewing distance of both the Pennsylvaniaand B&O lines near Newark, DE, hence the interest in these Eastern lines and their successors.
I was fortunate enough to live within easy driving distance of:
CSX mainline from Harper's Ferry and Brunswick to Washington D.C.,
The Old B&O main line from Baltimore to Point of Rocks, MD.
The very beautiful B&O Railroad Museumat 900 W. Pratt St. in Baltimore,
The Western Maryland Railroad Historical Society's museum in Union Bridge, MD,
The Maryland Midland Railroad, based in Union Bridge, MD.
and the tourist line - Walkersville Southern based in Walkersville, MD.
until a few months ago and a job relocation forced a change of scenery.
I am now in the Dallas area:
within 2 miles of BNSF line from Carrollton to Dallas
short distance the Grapevine Vintage Railroad - a fun tourist line
driving distance away from Union Pacific lines near Denton.
Some model railroads that are noteworthy that I have enjoyed are:
Triangle and Western RR on Belair Rd., Northeast of Baltimore - nice permanent HO layout spanning Baltimore area, through mountain terrain, and into the steel mills of Pittsburgh.
Baltimore Society of Model Engineers on W. Saratoga St. in Baltimore with two large permanent layouts. One O guage and one HO - lots of trains, trolleys, multi-track operation. In existence for over 50 years.
Western Maryland Railway Historical Society's Modular Group's layout - set up at various shows and venues in the area - well done modules based on WM lines through Md, Va, WVa, and Pa.
Four County Society of Model Engineers - modular layout set up at various shows and venues in the area - very well done modules featuring Western Maryland, B & O, Chessie, CSX,Maryland Midland,Clinchfield, and the Pennsy.


You may browse my collection of pictures via the menu located on the left hand side of the page. I hope you enjoy the collection and thanks for stopping by!